Contribution Recognizes Service of Local Agent, Hospital Board Member
The Allstate Foundation recently awarded the Carthage Area Hospital Foundation a $1,000 Helping Hands Grant in honor of community service provided by Independent Agent Adam J. Fuller of Fuller Insurance Agency, Inc., Carthage and Canton.
"It's a tremendous honor to see this grant awarded to an organization so close to my heart," said Fuller, agency principal. "Allstate recognizes that its agents are active participants in the communities they serve. The Helping Hands Grant shows Allstate is just as active and committed as we are."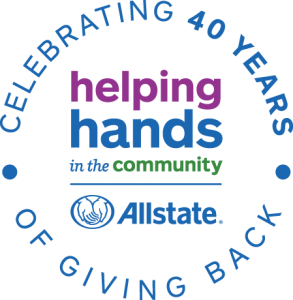 Fuller served on the Carthage Area Hospital Foundation Board of Directors from 2007 to 2017, including two years as board president. He is presently a member of the Carthage Area Hospital Board of Directors and in September took a seat on the Meadowbrook Terrace Board of Directors. He remains an active foundation volunteer.
"We are grateful for all the support of our foundation volunteers," said Natalie Burnham, CAH Foundation interim executive director. "Adam has been a committed partner for many years. Wesincerely appreciate his efforts to strengthen the hospital."
Fuller Insurance Agency, Inc. is an independent insurance agency founded in 1980 by Wilfred T. Fuller with locations at 110 S. School Street, Carthage, NY and 10 Court St., Canton, NY.  Fuller Insurance Agency, Inc. represents numerous insurance carriers including Allstate, Northbrook, Ill.
The Allstate Corp. is the nation's largest publicly held personal insurer, protecting approximately 16 million households. In 2016, the Allstate Foundation gave $25 million to nonprofits across the nation and has contributed $400 million since its founding in 1952.
About the Carthage Area Hospital Foundation
The Carthage Area Hospital Foundation is a not-for-profit, charitable corporation that promotes charitable gifts to ensure continued excellence in community health care. The Foundation is dedicated to ensuring that the Carthage area retains a local hospital that delivers quality, primary health care to the local community and its neighbors.
 About Carthage Area Hospital
    Carthage Area Hospital was established as a not-for-profit rural community hospital in 1965. It operates today as a fully accredited 25-bed Critical Access Hospital, serving approximately 83,000 residents in Jefferson, northern Lewis and southern St. Lawrence counties.
The hospital also operates a network of community-based clinics, including its Family Health Center, Pediatric Clinic and Women's Way to Wellness and provides a range of specialty care, including general surgery, orthopedics, urology, physical therapy and behavioral health. Visit carthagehospital.com to learn more.