Proceeds from Evening Benefit the American Heart Association / American Stroke Association

It's time to hit the stage to help end heart disease during the 3rd annual "Sing Your Heart Out" Karaoke Contest on Saturday, May 12.
The first acts take the stage at 7:30 p.m. at the Ramada Inn, 21000 State Route 3, in Watertown. Last year's contest drew 30 performers and more than 100 spectators to raise $1,100 for the American Heart Association/American Stroke Association.
Karaoke lovers are invited to join the fun and belt out a favorite tune for cash prizes totaling $250. Contestants can win $100 for "Best Solo Performance;" $50 per person for "Best Duet," and $50 for "Most Entertaining." If singing isn't your forte, the public is invited to sit back and enjoy a night of entertainment for a great cause. Admission for spectators is $10 per person or $15 per couple. Contestant registration is $10 per person or $15 for a duet. The deadline to register is Friday, May 4.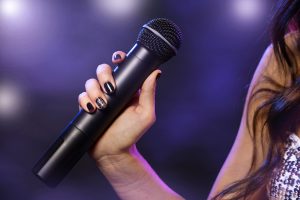 Singers and spectators can RSVP online at carthagehospital.com/karaoke, call 315-519-5211 or email contest organizer Taylour Scanlin, Carthage Hospital marketing director, at tscanlin@cahny.org with their name, phone number, and song choice, if applicable. Singers must submit a song choice in advance to ensure the DJ has it available. If a song is not chosen ahead of time, contestants will have to pick from a list of available songs.
Scanlin will host the event. A three-person panel of local "celebrity" judges will decide contest winners. Judges include North Country Heart Walk organizer Stacy Spaziani and Tunes 92.5 WBLH Radio General Manager Tim Sweeney.
Tunes 92.5 and Ramada Watertown are contest sponsors. Constant Velocity DJ Services will provide karaoke services.
Carthage Area Hospital is the presenting sponsor of the 2018 North Country Heart Walk and raises money throughout the entire year to support the cause.
About Carthage Area Hospital
Carthage Area Hospital was established as a not-for-profit rural community hospital in 1965. It operates today as a fully accredited 25-bed Critical Access Hospital, serving approximately 83,000 residents in Jefferson, northern Lewis and southern St. Lawrence counties. The hospital formed a clinical affiliation with Crouse Health, Syracuse, in 2017.
The hospital also operates a network of community-based clinics, including its Family Health Center, Pediatric Clinic and Women's Way to Wellness and provides a range of specialty care, including general surgery, orthopedics, urology, neurosurgical care, physical therapy and behavioral health.