We've Moved!
Effective Monday, October 23rd, 2017, our Surgical Clinic is moving into our main hospital campus at 1001 West St. Please be sure to utilize our free valet parking at our main entrance anytime from 6am-2pm Monday – Friday. Once you enter the hospital, please let the front desk switchboard operator know you are here for an appointment (not for surgery) with your surgeon. They will direct you to your destination. The clinic will be located straight down the main entrance hallway towards the end across from the Maternity Unit. Thank you for your patience.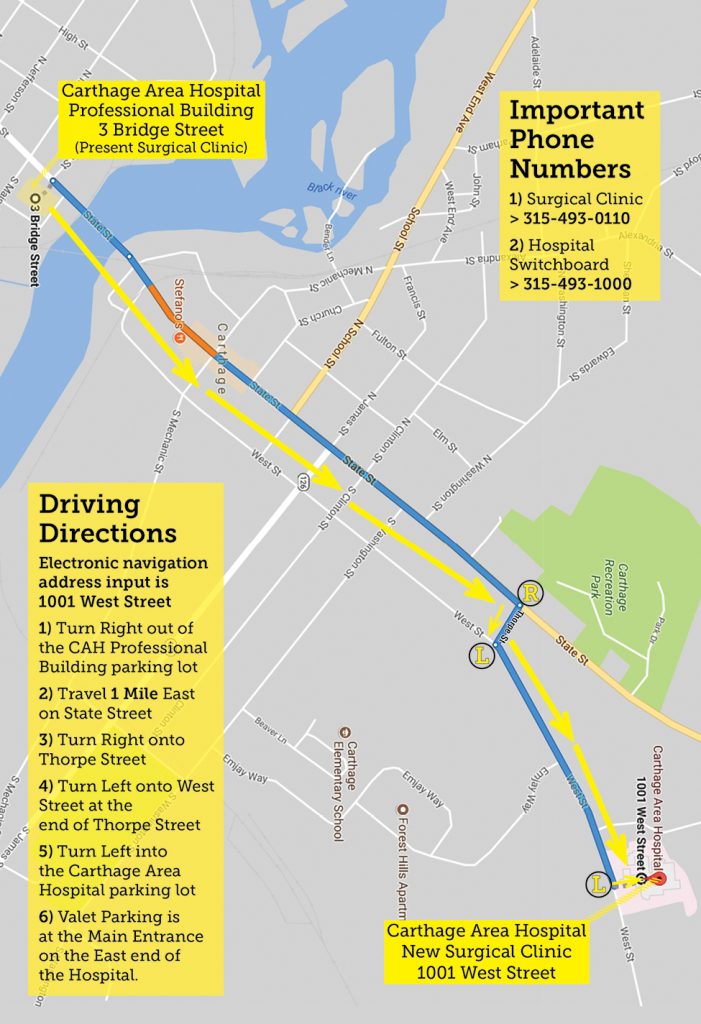 About General Surgery
The Carthage Area Hospital(CAH)Surgical Clinic began operations under Carthage Area Hospital in June 2008. We welcome you to be a part of our family at this or any of our CAH Primary Care Network Centers.
In 2017, Carthage Area Hospital partnered with Synergy Surgicalists to provide convenient, on-call coverage for General Surgery.
Services are delivered in a caring, professional, and family-friendly environment, sensitive to the diverse health care needs and challenges of our patients, while encouraging the development of strong healthy lives. Wherever you are on life's journey, the CAH Surgery Clinic is here to help you.
Services Provided:
Gall bladder-laparoscopic and open
Breast biopsy
Mastectomy
Carpal tunnel
Hernia
Lesion removal-malignant/benign
Circumcision
Varicose veins
Colonoscopy
Physicians:
Synergy Surgicalists 

 Jared A. Tomlinson, MD
Marcia Chung, MD
Virginia H. McDougall, MD
Most Insurances Accepted, including TRICARE, Martin's Point, Medicaid, and Medicare.
Emergency number to call if facility is closed:
Please call 911 or go to the nearest Emergency Room
Additional Info
Street Address: 1001 West St.

City: 

Carthage

State: 

NY

Zip Code: 

13619

Phone: 

(315) 493-0110

Fax: 

(315) 493-1136

Hours of Operation:

Monday, Tuesday, Thursday 8:00am-4:00pm | Wednesday 8:00am-5pm | Friday 8:00am-3:00pm