Meadowbrook Terrace opened its doors on Monday, February 18, 2013. Meadowbrook Terrace is located in a quiet, country setting and offers its residents everything you cherish – a sense of independence, freedom, privacy and peace-of-mind. We offer 24 hour supervision provided by our warm and friendly staff.
"A Place to Feel at Home"
Features:
Barber Shop/Beauty Salon
Ice Cream Parlor
Chapel
Dining Room
Activities Area
Lounges
Outside Patios
Outside Walking Path
Gazebo
Gift Shop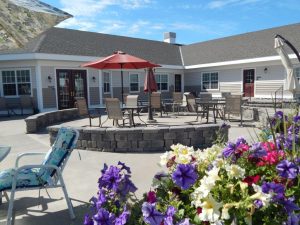 Services:
Assistance with basic ADL's (activities of daily living) such as bathing, grooming, dressing, and more.
Medication Assistance
Room and Board
Home Cooked Meals 3x/day and snacks
Housekeeping
Laundry and Linens
Supervision 24 hrs 7 days/wk
Activity Programs including trips to local shopping areas, dining, farmer's market, bingo, and more.
Emergency Call Service
Exercise Program
Case Management
Pastoral Services
Amenities:
An elegant dining room with restaurant style dining is awaiting you. Our professional staff prepares a delicious menu of entrees for 3 meals a day! After that you can top it off with one of our spectacular deserts.
A beautiful courtyard awaits our residents. We have a patio area furnished with patio sets where you can sit and enjoy the surroundings, read a book or just relax with friends.
An exercise program will help keep you in shape. Our residents can participate in an exercise program to keep everyone on their toes.
Comfort:
Meadowbrook Terrace is located in Carthage, New York in a rural, country setting. It is a beautiful community setting designed reminiscent of a historic Carthage community several years ago.
Guest meals are available for a nominal fee for those occasions where friends and family would like to dine with residents.
Security:
Our facility offers 24 hours-a-day/ 7 days-a week supervision for our residents and staff. Every resident bedroom and bathroom are equipped with emergency call lights to alert staff in an emergency. These call lights are answered 24 hours a day by staff.
Schedule a Tour:
If someone in your family is interested in assisted living, please call us for a tour. There are many seniors that don't need the expense and limitations of full-time nursing home care. Meadowbrook Terrace offers the perfect alternative. Our staff will help identify available options and discuss financial considerations. For information, or to arrange a tour, please call (315) 519-1246.
Additional Info
Street Address:

21957 Cole Rd.

City:

Carthage

State:

NY

Zip Code:

13619

Phone:

(315) 519-1246

Fax:

(315) 519-1339