Carthage Area Hospital (CAH) is pleased to introduce Board Certified Adult & Pediatric Urologist, Felix T. Oben, MD, FACS to the CAH team. Dr. Oben will be seeing patients at the Carthage Area Hospital Urology Center, located at 3 Bridge St. in Carthage, as well as performing surgeries at the hospital. Dr. Oben comes to CAH from Oswego County Urology, PC, in Fulton, NY, a private practice in which he still practices.
Services:
Kidney stones, medical and surgical management including shockwaves, ureteroscopy, percutaneous, and open surgeries
Urinary incontinence in men and women, including those resulting from other surgeries – NOW OFFERING URODYNAMICS
Male infertility
Pelvic organ prolapse (dropped bladder)
Genitourinary cancer management (kidney, bladder, prostate, testes, and adrenal)
Family planning
Urinary tract infections
Prostate problems
Blood in the urine
About Dr. Oben: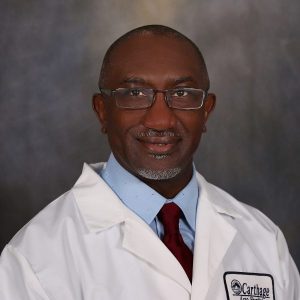 Dr. Oben completed his medical degree at the University of Yaounde, Republic of Cameroon in 1990 where he graduated as class valedictorian. He then completed his residency at Howard University. Dr. Oben is affiliated with the following professional memberships: American College of Surgeons, American Board of Urology, American Urologic Association, and Oswego County Medical Society.
Dr. Oben has also contributed material to a myriad of professional publications to include:
Computer Thermal Imaging details the thermoregulatory dysfunction of castration-Presented at the AUA general assembly, (abstract 1334) – Chicago 2003
Tuberculous epididymitis with extensive Retroperitoneal and mediastinal spread: a case report – submitted for publication in UROLOGY (March 2003)
PSA patterns after Interstitial Laser Coagulation of the prostate in patients with BPH –submitted for publication in Journal of Urology (April 2003).
Fibroepithelial polyps of the ureter causing UPJ obstruction –Presented at the Children's National Medical Center Urologic Conference, 2003.
Currently, Dr. Oben is accepting new patients. Initially, Carthage Area Hospital Urology Center will be open on Wednesdays from 8am-5pm. Hours of operation are expected to expand in the following months. For more information or to schedule an appointment, please call (315) 493-0110.
Additional Info
Street Address:

3 Bridge St.

City:

Carthage

State:

NY

Zip Code:

13619

Phone:

315-493-0110

Fax: 315-493-1136

Hours of Operation:

Wednesdays from 8am-5pm. Hours of operation are expected to expand in the following months.