Want to be a part of our 2018 Sponsorship Program?
Click on the links below to learn more.
2018 Comedy Night Sponsors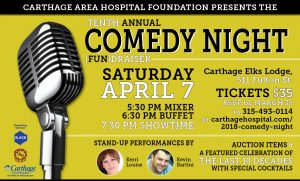 Presenting Sponsor

Side-Splitting Sponsor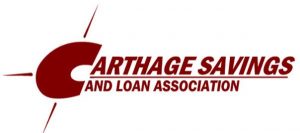 Funny Side Sponsors

Anne Rohr
Carthage Area Hospital Medical Staff



Jester Sponsors





Humorists Sponsors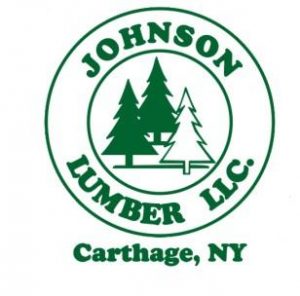 2017 Business Honor Rolls/ Sponsors
An excellent hospital, with state of the art equipment, and highly trained staff is a priceless community resource! You never know when you, a family member, or a loved one will need the skillsets, services, and personal level of care that only a community hospital can provide. We know that area businesses understand the importance of retaining our community's hospital and the personal care Carthage Area Hospital (CAH) provides through quality services of our medical staff and Employees.
The Carthage Area Hospital Foundation appreciates that several of our sponsors participate in multiple fundraising events throughout the year. We are grateful for the continued support and partnering in years past ensuring we are able to assist in maintaining CAH as a viable community entity. When an organization provides more than $300 worth of support to the Carthage Area Hospital Foundation through a direct money gift, and or an event sponsorship, the organization will be recognized as a Business Honor Rolls Member.
Gold Honor Roll – $2,500 or greater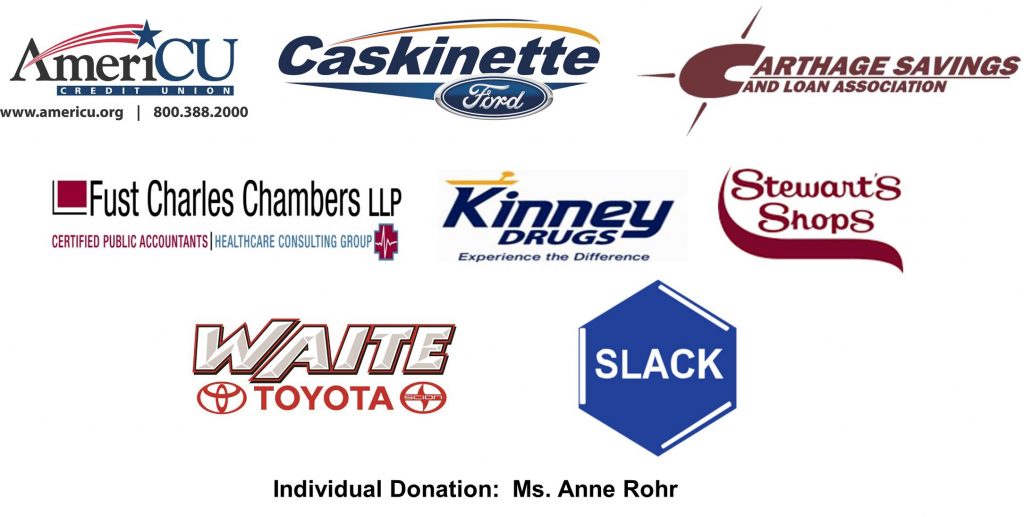 AmeriCU, BCA Architects & Engineers, Fust Charles Chambers, Kinney Drugs, Slack Chemical, Waite Motor Sales, Inc, Waite Toyota
Silver Honor Roll – $1,000—$2,499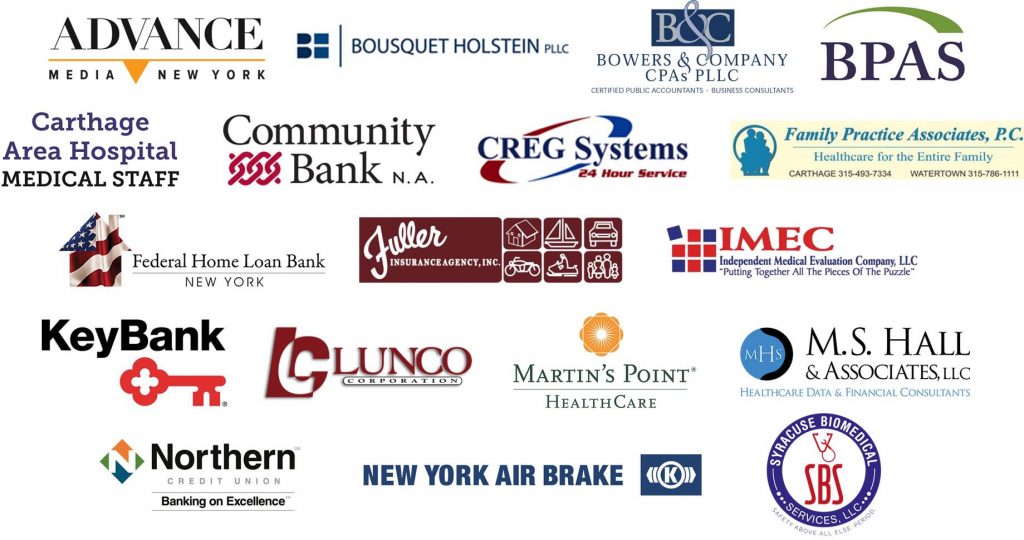 Bousquet Holstein, Community Bank, Excellus BlueCross BlueShield, Exit Reality, Family Practice Associates, Fuller Insurance, Hutchenson Boat, LeMoyne College – Lanigan Chair, Otis Technology, Pentregra, Syracuse Media Group, BPAS Actuarial & Pension Services, Northern Radiology Associates
Bronze Honor Roll – $300— $999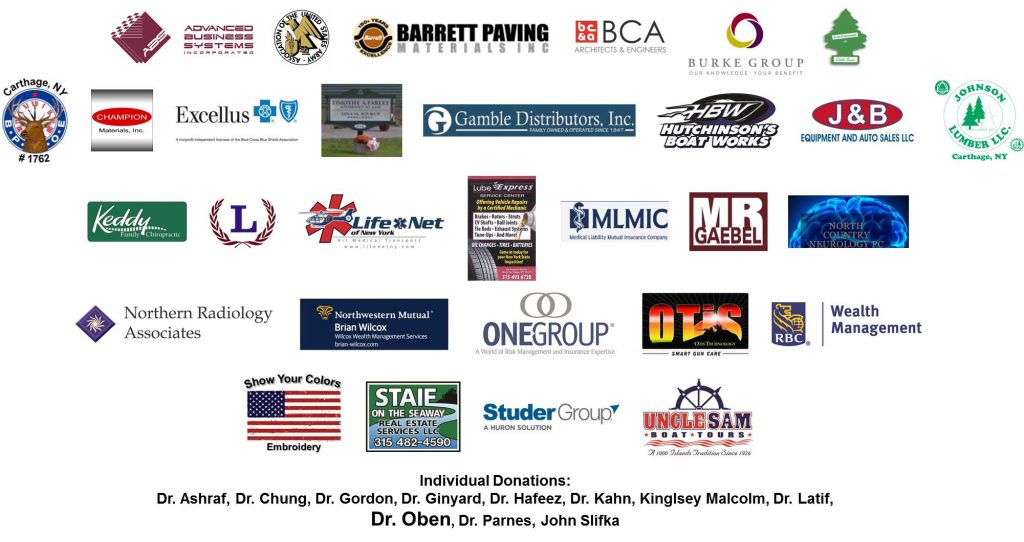 Bowers & Company, Burke Group, Countryside Veterinary, First Niagara Bank, Fidelis, Keddy Chiropractor, Key Bank, Lundy Funeral Home, Medical Liability Mutual Insurance Company, MR GAEBEL, New York Air Brake, Northern Credit Union, North Country Orthopaedic Group, RBC Wealth Management, The Old Tattered Flag, Timothy Farley, PC Attorney, Caskinette's Ford Dealership, Elks Lodge #1762, Gamble Distributers
You may choose to give for many different reasons. . .
To Say Thank You …
Many community members and their families feel special gratitude for the care received at Carthage Area Hospital. A gift of money to the Foundation is a wonderful way to say "Thank You" for the personalized healthcare received.
To Remember…
A monetary gift in memory of a loved one is a lasting memorial. At a time of sadness, it is a way to show love and respect. It offers hope for the future as you "bring forward" the memory of your loved one in remembrance by giving to the Foundation. Others can be invited to give by including these words in the obituary notice: "In loving memory of (name) contributions may be made to the Carthage Area Hospital Foundation".
Other Ways To Give …
Some may wish to make special arrangements, endow a specific fund, or make non-cash gifts, (stocks, bonds, property, or bequests). Please call or stop by the Foundation office for more information.