Tournament Draws 168 golfers. Dozens of Volunteers, Sponsors who Helped Raise $35k 
    The Carthage Area Hospital Foundation posted new records in fundraising and participation on July 28 as it hosted the 28th annual Carthage Savings and Loan Association Golf Classic at Carlowden Country Club.
    "The tournament played out with high energy from all involved and Carlowden Country Club's new owners of did an outstanding job supporting the event," said Brian Serota, Carthage Area Hospital Foundation executive director. "The foundation's 'measuring stick of success' does not just emphasize the financial performance of our events, but the level of community support and fellowship as well; this event really raised the bar."
    This year was a banner year as 38 supporting sponsors, 42 four-member captain-and-crew golf teams (168 individual golfers), and 25 volunteers from Carthage Area Hospital and community combined to raise more than $35,000. What's more, Friday's course conditions were exceptional as the weather cooperated with plenty of sunshine.
Event proceeds are earmarked for the purchase of eight new stare-of-the-art emergency room patient beds. All efforts from the Golf Classic — special hole contests, auction items, donations, participation, and generous partnerships — will also help to ensure that Carthage Area Hospital will continue to deliver excellent health care for our communities.
Carthage Area Hospital and its foundation credit the tournament's success to the continued generous support of presenting sponsor Carthage Savings and Loan Association President Tom Piche and his team.
The foundation and hospital also thanks the many other businesses that invested support, including: Kinney Drugs, Fust Charles Chambers LLP, Advance Media New York, Federal Home Loan Bank of New York, Bousquet Holstein PLLC, BPAS Actuarial & Pension Services, Community Bank, CREG Systems, Fuller Insurance, IMEC, KeyBank, LUNCO Corp., M.S. Hall & Associates, New York Air Brake, Anne Rohr, Carthage Elks Club 1762, Barrett Paving, Burke Group, Caskinette's Ford, Excellus BlueCross BlueShield, LifeNet of New York, Northwestern Mutual – Brian Wilcox, OneGroup, RBC Wealth Management, Lube Express Service Center, Advanced Business Systems, Connecticut On-Line Computer Center Inc, Johnson Lumber, MLMIC, M.R. Gaebel Inc, Northern Radiology Associates, and Craig Zando in memory of Gino & JoAnn Zando.
Golfers experienced a new twist this year as they tested their skills against comedian Vinnie Mark to outshoot him on the sixth hole for a chance to beat the comic. The foundation provided golfers with a healthy snack bag packed with fruit, nuts, granola bars, a low-fat snack, and drink, as well as other gifts and a commemorative beverage tumbler.
While no golfer walked away with a hole-in-one prize, contest sponsors Caskinette's Ford provided a 2016 Ford Mustang premium and Gamble Distributers provided a 7000 Series Ferris zero-turn riding mower.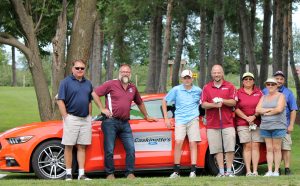 Foundation leadership also thanks the Carthage Savings Golf Classic Committee that freely gave time volunteering to plan, coordinate and execute the event — Michelle Ames, Sylvia DeVita, Teri Ellis, Adam Fuller, Wendy Hinman, April LaRock, Vicky Moore, Barb Park, Cheryl Schroy, and Patty and Tim Turpin. The selfless service of committee members and the hard-working golf day volunteers sincerely made the event a great success.
Contest rankings for the day were: A flight — 1st place, LUNCO Corp. (56); 2nd place, Stebbins Engineering Co., (60 matched cards). B flight — 1st place, Adam Fuller's Fuller Insurance Team (65 matched cards); 2nd place, CREG Systems (65 matched cards). C flight — 1st place, The Bonadio Group (71 matched cards); 2nd place, Advance Media New York (71 matched cards). Closest to the hole: Men's — Jay Feeley (4' 6"); Women's — Maggie Lavancha (11' 7").
Call the foundation office, 315-493-0114, to learn how to sponsor future events or to get involved with foundation operations.
About Carthage Area Hospital Foundation
The Carthage Area Hospital Foundation is a not-for-profit, charitable corporation that promotes charitable gifts to ensure continued excellence in community health care. The foundation is dedicated to ensuring that the Carthage area retains a local hospital that delivers quality, primary health care to the local community and its neighbors.
About Carthage Area Hospital
Carthage Area Hospital was established as a not-for-profit rural community hospital in 1965. It operates today as a fully accredited 25-bed Critical Access Hospital, serving approximately 83,000 residents in Jefferson, northern Lewis and southern St. Lawrence counties.
The hospital also operates a network of community-based clinics, including its Family Health Center, Pediatric Clinic and Women's Way to Wellness and provides a range of specialty care, including general surgery, orthopedics, urology, physical therapy and behavioral health. Visit carthagehospital.com to learn more.